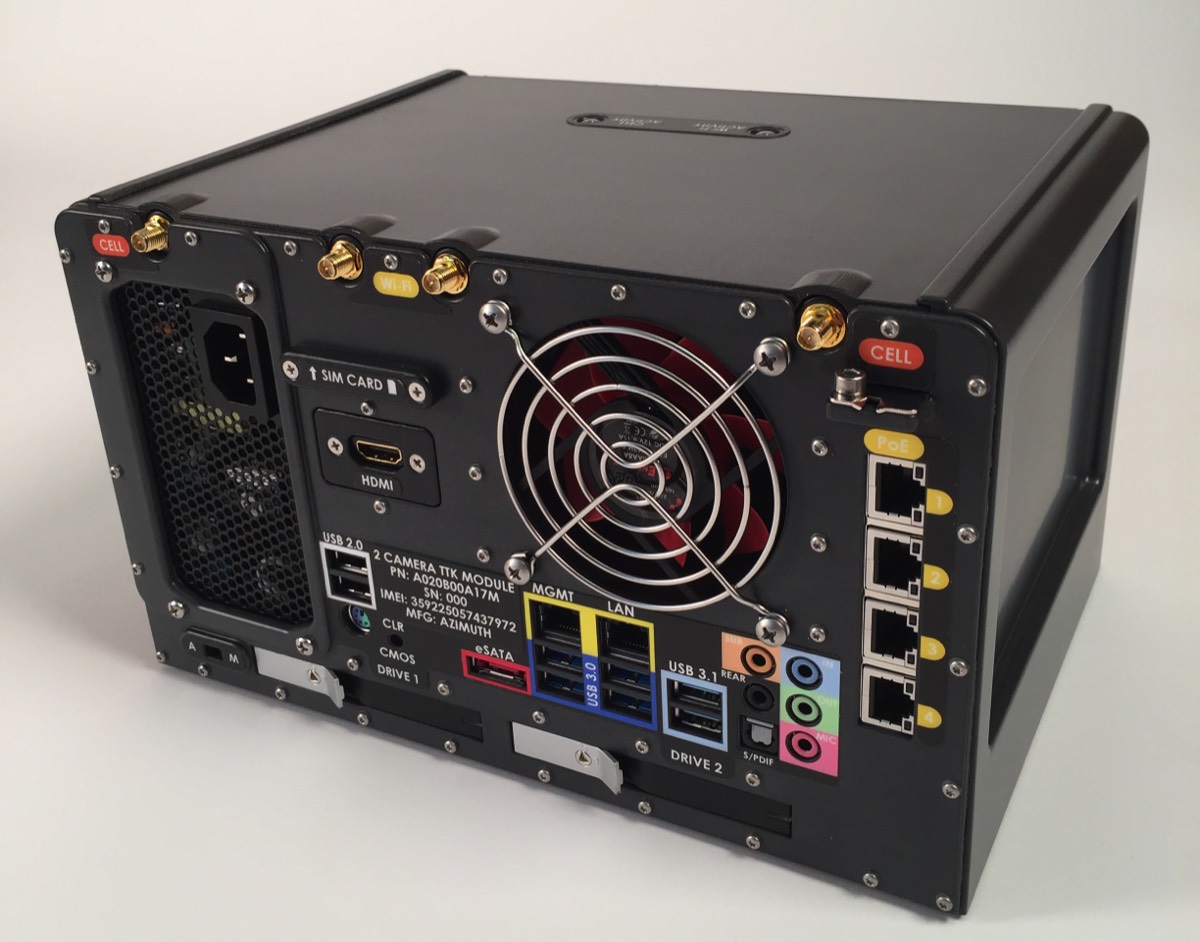 EDGE V2 Computer
The EDGE V2 is a high performance, small form factor computer that incorporates features from both the industrial and commercial computing markets. With up to 18 cores of processing and eight (8) terabytes (TB) of data storage capacity, the EDGE V2 is capable of acquiring, storing, and
analyzing hundreds of hours of real time, high resolution video.

The EDGE V2 provides up to four (4) Power over Ethernet (PoE) ports to supply power to connected IP-based surveillance cameras, eliminating the need for an additional PoE switch or external power adapters for the cameras. The unit can also be attached directly to a host network via a wired (LAN) or wireless (Wi-Fi) Ethernet connection to acquire video from pre existing host surveillance cameras. The EDGE V2 has phone home capabilities over the LAN, Wi Fi, and embedded mobile broadband (Cell) connections to allow for the secure exchange of analytic data from "the edge" to a central monitoring point. This secure channel can also be used for remote management of the EDGE V2.

The EDGE V2 and all accessories are neatly organized into a single, Federal Aviation Administration (FAA) carry-on size compliant, rugged transit case to provide adequate protection during field deployments.

The EDGE V2 is stowed and transported in a rugged, waterproof case molded from ultra-high strength polypropylene copolymer resin. The case features a custom cut foam interior designed to fit the computer and accessories. The case also features a molded-in hinge, trigger release latch system, comfortable, snap-down rubber over-molded cushion grip handle, automatic ambient pressure equalization valve (MIL-STD-648C), resistance to UV, solvents, corrosion, fungus, and impact damage (MIL-STD-810F).


View the
EDGE Product Brochure